Spring 2011 eNewsletter
Come On Columbus, Show Us Some Spring!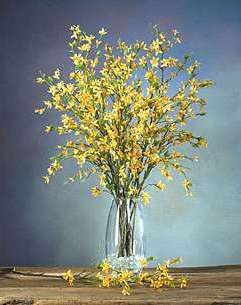 For those of you affected by the long, gray days of January,February and March, you will be able to relate to my need to see flowering blooms at this time of year.   To that end, last year I planned a trip to Washington, DC to see the famous "Cherry Blossom Festival".  I knew seeing masses of blooming cherry trees would lift my spirits enough to carry me through until late April and early May when Columbus starts to come alive.  Alas, it was not to be - gale like winds blew through DC the day before we arrived and the only blossoms we saw were strewn on the ground beneath the cherry trees.
So this year, I thought I would try again but head further South to insure a true sighting of spring blooms.  I planned a visit to my parents in Houston to coincide with the Annual Azalea Trail that takes place in March.  Surely, this year I would be successful in my quest to see the pinks, corals, and purples for which azaleas are known.   Well, sorry to report, the freezes in February delayed the blooms and the gardens I toured were bursting with buds that were 7 – 10 days away from blooming.  No flowers again.
Yes, I am two-for-two in my quest to rush spring.  It just doesn't seem to be in the cards.  So I came home from Houston and decided to wait it out.  Luckily for me, I was shopping at Trader Joe's a couple of weeks ago and spied bouquets of forsythia branches for sale!  I immediately bought grabbed several bunches and am pleased to report they are still blooming on my kitchen counter.  Ahhh…spring is here and not a minute too soon.   
Hope I'll see you on the famous New Albany walking trails as the days lengthen and begin to warm!  Have a great month! 
My best to you!
Kate